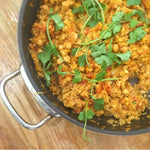 This recipe is a personal favourite - perfect for those cold wintry nights and a nice alternative to the more traditional stews, soups and casseroles. It's quick and easy to make and is a versatile dish that can be served alongside others, or enjoyed on its own for a delicious, hearty supper.
Ingredients (serves 4):
- 400g chickpeas
- 1/2 can coconut milk (200ml)
- 1 cauliflower (500g), coarsely grated
- 2 beef tomatoes, diced
- 2 glasses of water
- 1 onion, thinly sliced
- 1 tsp ground cumin
- 1/2 tsp turmeric
- 1/4 tsp cinnamon
- 1/2 tsp dried chilli
- 3 tbsp olive oil
- pinch of salt
Method:
- Heat up a nice deep pan with oil and fry the onion and garlic for 5 mins until golden.
- Add all of the spices and fry for 2-3 min to release the flavours. 
- Stir in the grated cauliflower and tomatoes and cook for a further 5 mins.
- Drain and rinse the chickpeas and add to the pan with the coconut milk - then add the water and bring to the boil.
- Simmer the dahl on the hob for around 20 mins or until it's thickened, and season to taste.
- Top with fresh coriander or parsley, grated cauliflower and a good squeeze of lemon juice.
- This dish is best served with Rana*s Bakery Ingenious Flatbread - all of our bread mixes are available on the website, so why not try one today!
- Enjoy!