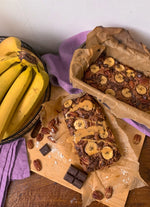 Gluten-Free Chocolate Banana Bread 
Ingredients:
Dough: 
1.5 cup New Italian sourdough mix
1 cup gluten-free oats 
0.5 cup brown sugar
3 teaspoon baking powder
2 tbsp cocoa powder
1 teaspoon salt
1 tablespoon chia seeds
3 tablespoon maple/rice/date syrup
3 tablespoon peanut butter
2-3 teaspoon vanilla extract
3/4 cup plant-based milk
3 ripe bananas
Decoration:
1 banana
Pecan nuts or walnuts
Dairy free chocolate (chopped)
Method:
1. First we make the chia seed "egg" - one tablespoon chia mixed in 2.5 tablespoon water - in a small bowl or cup. We put it away to let it rest.
2. With a fork, we mash 3 bananas into pulp. We add the peanut butter, the syrup, the vanilla extract and the chia egg. In a separate bowl we whisk together the dry ingredients making sure everything is evenly distributed. We mix the wet and dry ingredients and pour in the plant-based milk last to make the dough less dense. 
3. We line two non-stick loaf tins with baking paper and pour in the mixture. We slice up the fourth banana and use it to decorate the top of the loaf by gently pressing them into the wet dough.
 Tip: For extra caramelisation while in the oven, we can brush the surface of them with some leftover syrup. 
As a finishing touch we sprinkle the nuts and the chocolate on the banana bread as well.
4. We warm the oven to 170-180 °C and bake it for about 30 minutes or until a toothpick stuck into the middle of the loaf comes away clean.
Recipes by Mirella Niebl