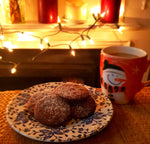 With the festive season well and truly upon us, it's the perfect time to spread some Christmas cheer with this delicious and simple recipe. So why not stock the biscuit tin with these gluten free and vegan Festive Biscuit Bites!
Ingredients:
- 200g Rana*s Bakery Super Sourdough mix
- 150g coconut sugar
- 90g vegetable oil
- 14g ground flaxseed
- 42g water
- 15g cinnamon
Method:
- Mix all of the dry ingredients together and stir in the vegetable oil until you're left with a sandy texture
- Add the water and bring the mixture together
- Roll out to a thickness of around 5mm
- Using a circular biscuit cutter (or any festive shape will do the trick!), cut out and place on a baking tray lined with greaseproof paper
- Bake for 8-10 mins at 180C 
- Biscuits should be slightly soft and then will harden when left to cool
- Sprinkle with icing sugar and orange zest to make them extra Christmassy
Enjoy!