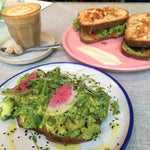 Farm Girl Cafe : Go for the highly photogenic matcha lattes - stay for the amazing food, service and atmosphere!
Tucked away in a quiet spot in the heart of Portobello Road, you will find the quaint, colourful and extremely popular Farm Girl Cafe. I visited during the week for lunch (to avoid the weekend crowds!) and was greeted by the assistant manager Amir, who's possibly the friendliest guy in West London.
Settling myself down in the table by the window, with the pretty courtyard blushing pink behind me, it was immediately clear that this place justified the hype. Against a backdrop of pale blue and aquatic green tiles, the staff effortlessly managed the hum of hungry customers with a smile - delivering beautiful technicolour plates of healthy, freshly-made produce.
And now it was my turn! My food arrived quickly and was presented to me, as though it had been given its own Instagram filter - such was the vibrancy of the colour and design. I was trying two of their dishes that use our delicious New Italian gluten free sourdough; the Avocado Toast, which was beautifully balanced with the sharp lime, fresh coriander, crunchy purple radish and smoky nigella seeds; and the Coconut BLT, which was a genuine revelation to my taste buds. How you can recreate the salty, crunchy, umami taste of crispy bacon so effectively, is a wonder - almost enough to make me commit to my vegetarian goals full-time...almost.
As I finished my coffee, I chatted more with Amir and listened to him speak passionately about everything from the positive, 'local and organically sourced',  ethos the cafe's owners commit to; the core team of staff who are 'friends that are more like family'; the dedicated, hard-working, talented chefs; and the underlying modern truth that, people will always want to photograph their food!
Upon leaving, I overheard more than one table explaining that it was 'the best service they'd ever experienced' and that they will 'definitely be back to show it off to their friends'. And I would have to agree with them - I shall be back, with my friends, stood ahead of them in the queue!
-------------------------------------------------------------------------------------------------------------
Farm Girl has cafes in Notting Hill, Chelsea & Soho - all featuring bread from Rana*s Bakery - check them out!