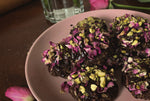 Pistachio & Rose Cookies
Ingredients:
Dough:
1 1/2 cup super sourdough flour mix

2/3 cup vegan butter/shortening

1 tbsp coconut oil

3/4 cup brown sugar

1 1/2 cup GF oats

2 tsp baking powder

1/4 cup plant based milk

1 tsp salt

 
Add-ins:
1/2 cup finely chopped pistachios
6 tbsp finely chopped vegan dark chocolate
4 tsp rose essence
6 tsp cocoa powder
Decoration:
2 tbsp rose petals
3 tsp cacao nibs
4 tbsp finely chopped pistachios
Method:
1. In a large bowl we whisk together the dry ingredients, starting with the flour and the baking powder, and mixing in the rolled oats last.
2. Next we add in the room temperature butter, and gently knead it into the dough until it's evenly distributed and has a crumbly texture, with no big chunks of butter left.
3. We pour in the rose essence, work it in and then little by little add the milk, making sure to knead the dough in-between. When we're done, the texture should be close to playdough.
Tip: sometimes the recipe requires more or less liquid depending on the texture of the dough. If it's too dry and falls apart we can a bit of extra liquid; if we added too much milk and it feels "wet" or sticky it can be fixed by adding more oats until it's a good, kneadable quality.
4. We work the finely chopped chocolate and pistachio into the dough.
5. We divide and roll the dough into roughly golf ball sized balls and then flatten them between the palms of our hand into a cookie shape. After lining a baking tray with parchment paper and preheating the oven, we bake them for about 25 minutes at Gas mark 7/ 200°C.
6. While our cookies are cooling down, we prepare the ingredients for decorating. In a small bowl or plate we mix together the chopped pistachios, the cacao nibs and the rose petals. We place the dark chocolate and the cream into a different bowl, put it into the microwave for about 30 seconds, then once we take it out, we whisk vigorously until it's fully melted and has a smooth, creamy texture. One by one, we dip the top of the cookies first into the melted chocolate and then into the toppings mixture, taking care to shake off the excess.
We place them onto a plate while the chocolate sets. Then, eat and enjoy!
Happy Valentines x
 Recipes by Mirella Niebl