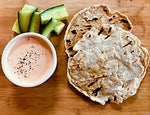 This recipe is super easy to make and works perfectly as a quick snack, or to keep in the fridge for when you have guests round. Serve with freshly made flatbread using our Ingenious Flatbread mix.
Ingredients:
- 150g cherry tomatoes 
- 200g feta (use vegan feta if preferred)
- 1/2 tsp chilli flakes (optional)
- salt and pepper
- Rana*s Bakery Ingenious Flatbread mix
Method:
- Blend the tomatoes and feta with a good sprinkle of salt and pepper and chilli flakes, in a food processor
- Mix until the tomatoes have broken down and transfer into a small serving bowl
- Follow the simple instructions to make the dough from the Ingenious Flatbread mix
- Shape the bread and cook on a griddle pan for 5 minutes each side
- Serve warm alongside the dip with crudites
- Enjoy!