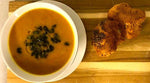 We needed something to keep us warm when we're not in the bakery, and what better way than a delicious soup, so we tapped Dorota, our resident chef at Rana's, and she has come up with delicious gingery soup from Poland. 
And so, on to that soup recipe:
- 3 medium carrots
- half an onion
- 3 cloves of garlic
- 1 medium potato
- 2 medium parsley roots
- 5 cm of ginger root (amount depends on individual preferences)
- 1 small cayenne pepper (fresh or dried)
- 1 celery stalk (skip if you are allergic)
- 1 medium tomato
- 5 cm of leek
- 2 bay leaves
- half glass of white rice
- salt and black pepper to season
Preparation:
Cut all vegetables into the cubes
Heat 2 tbsp olive oil in a medium pot and then add all the vegetables except the tomatoes.
Fry for 5-7 mins  and then add the tomato at the very end
Add to the vegetables around 1 lt of hot water, cover and simmer for 10 mins.
Add the rice, season and keep simmering for another 15 minutes.
Remove the bay leaves and then blend everything
If soup is too thick, add a little water.
We added roasted pumpkin seeds to our soup, but you can use whatever you want. Another favourite of ours is croutons and you can find our recipe here. Or leave it plain. Some bread on the side is always a must! Buckwheat, with its chia and pumpkin seeds works very well with this soup
And please remember it will be hot so allow to cool to safe temperatures before eating.