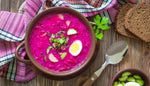 Try this deliciously vibrant chilled soup, that's perfect for Summer alfresco dining - and it's bright pink!
Our chef, Dorota, has perfected this simple recipe for you to try at home:
Ingredients:
- 100g fresh cucumber
- 50g boiled beetroot
- 50g pickled beetroot
- 1.3 litres kefir
- 30g spring onion
- 15g fresh dill
- 10g sugar
- 7g salt
- x1 hard boiled egg (garnish)
Method:
- Pour the kefir into a large bowl and stir in the spring onion, dill, sugar and salt. 
- Grate the beetroots and cucumber (finely sliced or chopped into larger pieces, whichever you prefer) into another bowl and lightly season with salt and pepper.
- Add the beetroot mixture into the kefir and stir well, or until it turns your desired shade of purpley-pink.
- Cover with cling film and transfer bowl to the fridge (it will taste best after being chilled for a few hours).
Serve:
- Divide into bowls and top with the boiled egg, cut into quarters. Serve with either baby potatoes or a slice of your favourite bread - we have a few to choose from here!