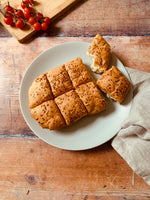 1 x 250g Super Sour Dough pack
40g finely grated Parmesan or strong cheese of your choice
1 heaped teaspoon mustard powder
225ml warm water
Seeds to sprinkle
Preheat the oven to 200°C Fan Oven 210°C Gas Mark 7
E

mpty the dough mix into a bowl, removing the bag containing the parchment
Add the cheese and mustard powder and mix well.
Add the warm water and stir until all the ingredients are wet; leave to stand for 5 minutes. Beat vigorously for 1 minute until smooth
Using a wet spatula, place the dough onto the parchment rectangle and shape the loaf into a rectangle approximately 5 x 8 inches (12 x 20m)
Keep using the wet spatula to create a smooth surface and then make 8 dividing/tear lines, one down the middle and four from side to side.

Don't cut all the way to the bottom of the dough
Sprinkle with linseed, poppy seed, or gluten free flour, slide into the parchment bag and fold over to seal
Leave for 30 minutes to prove at room temperature, the dough will not rise, just relax
Bake directly onto the oven rung/shelf in the middle of the oven for 80 minutes
Remove, place on a cooling rack and open the bag to let out steam and allow to cool completely before sharing
Tips
This loaf is best made a day in advance and served hot by reheating for 10 minutes in a preheated oven 200

°C Fan Oven 210°C Gas Mark 6/7. For extra cheesiness sprinkle with more grated cheese of your choice!

When you sprinkle with seeds try adding some dry chillies to pep up the crust flavour

If you don't like mustard add dried basil, chives or herbs of your choice

Try adding nutritional yeast instead of cheese, to make these vegan!
Enjoy with family and friends is you can bear to share!