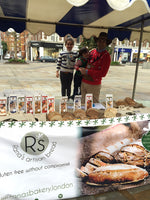 So, our last blog post was way back in October, as we were launching our website and getting Rana*s ship-shape and into action with all guns blazing. Bread and flour covered us, and the office, and only now with the Christmas slow down have we managed to put the proverbial pen to paper, in a digital sense of course.
So much for a weekly blog, we say to ourselves.
Much has happened since we launched, including expanding our office space. There are only so many packets of breads that one is able to rest a keyboard on. The new office even has carpet, and we can have meetings there too. Exciting stuff!
 So the preliminary launch was very interesting and we have had huge support from friends and family, for which we are hugely grateful for. We have also had lots of new customers, thanks in no small part to Natasha Corrett and the team at Honestly Healthy. We were thrilled to be one of the founder traders on the Honestly Healthy Marketplace, with some truly wonderful other traders and their fantastic products.
 We had a busy first couple of weeks in December. The first weekend was devoted to baking and getting ready for our first ever market, which happened to be the first time that the Duke of York Square market has had a Christmas Sunday opening. Despite the initial grey skies and December wind, there was a great turn out and we had a thoroughly enjoyable day amidst lots of food and drink from many other suppliers. Fruit dipped in chocolate, German breads, curry pastes and chutneys being a small selection from a huge variety. We were particularly pleased to find ourselves in-between some very nice chaps from Williams Chase with their gins and vodkas, and the most delicious cider and calvados straight from Normandy.
Midweek we found ourselves meeting Natasha and Simon from Honestly Healthy and the other traders. We had a wonderful morning in the Redemption Bar off Westbourne Grove, where we were spoiled without spoiling ourselves. Wonderful drinks and dishes were presented to us, and while all were delicious, not a drop of alcohol or sugar were to be seen anywhere! Some very innovative culinary skills manage to make the everyday pop out and shout eat me, drink me.
 The following weekend was once again market time. This time we found ourselves in Fulham, on the North End Road for their Christmas Market. The street was pedestrianised for the day, and the regular stall holders had competition from the likes of us, and a whole host of other stalls vying for your Christmas pound. There were lots of food stalls, from Jerk Chicken to Vietnamese street food, Falafel to gluten free bread mixes! Our neighbours, a bicycle stall (which the numerous children visiting insisted on tooting the horns), and an ingenious idea to control your child's screen time, Time Tokens.
 And then last night we found ourselves at the wonderful, and brand new, Truscott Cellar, off-shoot of Maida Vale's Truscott Arms. A rainy drive up to Belsize Park from Peckham, was not quite what we had imagined for a Tuesday afternoon, but well worth it. Our friends at Celia Lager were hosting a little bash there to show off their premium Czech lagers (Organic light and Dark – oh, and they happen to be gluten free too, as are the Truscotts, Arms and Cellar). They invited us to come along, and hand out some of mixes to the assembled bloggers, PR, and prize winners. This constituted a wonderfully eclectic group of people, united by an interest in good food and drink, regardless of the limitations that our bodies might dictate to us. We were very pleased to have some wonderful feedback from everyone we talked to. The beer flowed and the delicious food kept coming from the kitchen, all while they had a full restaurant downstairs. The Beef Shin Chip was a particular favourite.
 So now we find ourselves with the most mundane of tasks as we get ready for Christmas, cleaning the offices, and reliving December through the writing of a much delayed blog post. The come down from last nights event have sent Rana out in search of Honest Burgers finest (their newest branch happens to be in downtown Peckham, not much more than 100 yards from our front door – oh dear).
We hope all your shopping is done (Rana*s mixes make for an excellent stocking filler or hamper addition if you haven't!!).
Please join us in the New Year for more news, we hope more parties and definitely more markets.
Have a Merry Christmas and New Year, and generally wonderful time off (or on if you can't have it off).
Rana*s Team