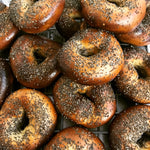 Baking Instructions for 3 Boss Bagel
https://youtu.be/p1cDvZh0l60 
You will need
42g Agave (optional)

Greased Piping bag cut with 4cm horizontal opening

A flat spatula for flipping bagels

A sauce pan
A spatula for mixing dough
Non stick baking tray
A Mixing Bowl
 Measure 240g Bagel Mix into a mixing bowl
Add 192g warm water and 42g agave
Mix for around 1 minute to combine water and flour using the spatula
Leave dough to sit for around 5 minutes
Grease inside of the piping bag using the oil.You can use the oil on some kitchen roll  to wipe the inside of the piping bag
Preheat oven to 200C and boil water in a pan on the hob
After 5 minutes, mix the dough vigorously for 1 minute
Place the dough into the piping bag
Pipe the dough into a bagel shape onto the baking tray. Around 10cm diameter.
Tidy up edges of the dough using a wet finger or wet spatula
Gently place bagels into boiling water using flat spatula, and boil for 2 minutes
Flip over bagel and boil on the other side for 2 minutes
Take bagels out and place onto baking tray
Bake the bagels for 45 minutes at 200C
Happy Sunday mornings!!