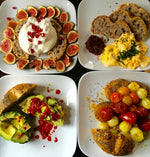 Our Buckwheat mix makes a healthy, rich and delicious bread. We suggest a sprinkle of chia seeds to finish off this amazing home baked bread. 
Here are five ways to enjoy Buckwheat for breakfast, lunch or dinner!

1- Buckwheat and scrambled eggs.
Delicious, healthy and super quick! Scrambled eggs, with a sprinkling of chives, and a dollop of olive paste.

2- Roasted tomatoes on Buckwheat.
This is a great quick and healthy dinner. Place a variety of tomatoes on a baking tray. Drizzle with garlic oil, and season with salt, pepper and dried basil. Bake the tomatoes in the oven at 200C for 15 mins. The tomatoes will burst open and make a delicious topping for your buckwheat slices. A great dish for vegans!

3- Burrata and figs sprinkled with pomegranates.
An indulgent dish, and a great one for a sharing. Slice up some figs, with some yummy burrata mozzarella and sprinkle with pomegranate. This dish only takes 2 minutes, but looks and tastes amazing!

4- Avocado on buckwheat
Easy avocado on buckwheat bread! We like to add some harissa, and suggest Saveur Du Maroc's delicious chilli. If that's a little too spicy for you, add a dollop of sour creme.

5- Melted cheese on buckwheat

Everyone loves a cheese on toast. We've added some caramelised onions, made with agave, on our mature cheddar cheese. Finish off the dish with a sprinkle of dried chilis for a kick.


These are just 5 ways to enjoy your delicious home make buckwheat bread! Please send us any ideas you have. We'd love to hear from you.