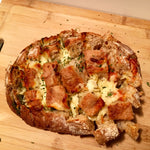 Pull apart bread is such a quick and easy way to make a great sharing dish - perfect for an evening in with friends.
We suggest using our New Italian bread, which you can bake yourself using our bread mix, or buy fresh from our website. You can change the fillings, but we've made a vegetarian version of this dish. So here are the steps!
Take one New Italian baked bread. Leave to cool completely if you've baked it yourself.
Slice the bread 3/4 of the way down. Make sure you leave the bottom of the bread intact.
Slice the bread horizontally to create cubes of bread. Again, make sure you only slice 3/4 of the way down, keeping the bottom of the bread intact.
Place the bread on foil. Using a knife spread a thin layer of pesto and tomato passata in between the slices. Gently stuff grated mozzarella and cheddar into the bread between the slices. You can use whatever cheese you like, but this pair melt and become delicious and gooey! 
Pour melted butter over the top of the bread.
Bake for 15 minutes at 180C.
Sprinkle with herbs and enjoy!