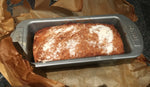 We usually prefer a free-form loaf, but baking in a loaf tin also works well. If you don't fancy shaping a loaf, using a loaf tin can be a quick and easy alternative. Here is how you do it!

You'll need a bowl, a spatula, a measuring jug, a loaf tin and baking parchment
 

Empty the bread mix into a mixing bowl. Add the amount of water instructed on the packet. Mix until water and flour is combined, then leave to stand for 5 minutes.Stir vigorously for 1 minute, then the mix is ready to pour into the non stick tin.
Pour mix into the tin and smooth the top of the surface with a wet spatula. Sprinkle flour on the top of the loaf.
Place the tin onto the middle of the parchment paper, lift up the sides and seal by folding the edges together. You can staple the sides together or use a paper clip.  
Bake in a pre-heated oven at 210C with the fan off, for 90 minutes.
Take the loaf out of the tin, and leave to cool on a rack.
 

Once cooled, cut up and enjoy!