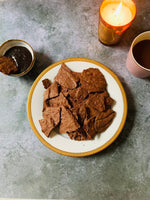 Super fun and easy to make
100g Flat Bread Mix
15g desiccated coconut
15g cocoa powder
40g light soft brown sugar
100mls warm water
Chocolate sauce to serve
A sprinkle of glitter to make you smile!
Preheat the oven to 160°C Fan Oven 170°C Gas Mark 4
You will a baking sheet 12 x 14 inches (30 x 36cm), parchment square approx. 12 x12 inches (30 x 30cm) and a spatula
Place all the dry ingredients in a bowl and mix until blended

Add the warm water and stir until all the ingredients are wet; leave to stand for 5 minutes. Beat vigorously for 1 minute until smooth
Place the parchment onto the baking sheet and using a wet spatula spread the chocolate dough over the parchment as thin as you can
Bake for about 40 minutes until the dough is very crisp throughout.

Quickly remove the parchment and leave on the baking sheet until cool.

 

The dough may be slightly soft in places, it will crisp as it cools.

 

Don't worry if the dough sheet breaks too!
When completely cold…….SHATTER.

Place shards around bowl of chocolate sauce or whipped cream and dust with glitter.
Dip away………
Tips
Once you have made this recipe you will realise the possible flavour combos: -
Make with dark brown sugar for a caramel flavour
Turn into Mocha Choc O Nutties by replacing warm water with warm black coffee
Add the zest of an orange or serve with chocolate orange sauce (melted Terry's Choc Orange!!)
Serve with ice cream too
Get your guests to shatter!
If there are shards left-over, store in an airtight tin for up to 3 weeks
IT'S PARTY TIME!