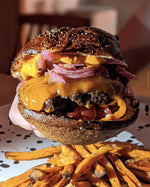 Top tips when eating out on a gluten-free diet 
We all know and appreciate how great eating out can be. What's not to like? Delicious food, great surroundings, and entertaining company. However, if you're following a gluten-free diet, the thought of eating out can be a difficult thing to conquer.  
For many gluten free followers, the concept of eating out makes them feel anxious and uncomfortable. They have the right to be too. For example, how can they be sure that the correct principles are being followed to avoid cross contamination? How can they be certain that what they're ordering is safe? 
Well, don't fear, the days of overanalysing and worrying are over. We've gathered our top tips for eating out when on a gluten-free diet. 
Choose the right restaurant 
This may sound obvious, but for many it isn't. We suggest opting for chain or large-scale restaurant where set protocols are followed company wide. This will avoid any mishaps and give you peace of mind that you're going to have a safe and enjoyable experience. 
Fine dining restaurants are also good options too. These establishments take great care to ensure everyone is catered to. It also means that most menu options have gluten-free alternatives, meaning you can enjoy the same delicious dishes as the other guests around the table. 
Overall, we suggest using your knowledge and judgment to determine whether you feel like the placing you're eating at is safe and sound. 
Call ahead 
Again, pretty simple but many people overlook this. Simply call ahead and let them know your dietary requirements. This will give the team and chef the best chance to understand your specific requirements and cater to them as best they can.  
This could also extend to pre-ordering. By pre-ordering your meal, the chef can order the specific ingredients you need and ensure they're prepared correctly. This avoids any last-minute rushing which reduces the risks of accidents or mistakes. 
Dine outside of peak times 
This isn't always the case, but choosing quieter times ensures you get access to more attention from the staff. This often means they have the time and resources to fully understand your needs and ensure everything is delivered correctly.  
You can either choose to eat early or late, the choice is yours. This is also a great time to enjoy a more relaxed atmosphere and better service. That's a win win in our eyes!
Ultimately, we think a lot of this comes down to common sense and experience. For more seasoned diners, they will understand where to visit and how to approach things. If you aren't as experienced, this is fine too. The only way to better understand your eating out approach is to test different establishments and understand which ones cater to you best. 
If you feel rushed or guilty for making clear your dietary requirements, then that isn't a place you should eat at ever again. Food should be a great experience for the senses, not a trigger for anxiety.
To give you a helping hand, check out our stockists list via our website. That way, you're guaranteed gluten-free goodness. 
Photo Credit: @gluteninterrupted