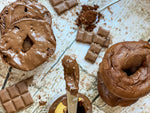 World Chocolate Day 2022
Today is a very good day. Do you know why? It's World Chocolate Day!
Every year on July 7th chocolate lovers around the world celebrate one of the best things on the planet, chocolate. Today is an excuse to celebrate and eat all kinds of goodness such as chocolate bars, hot chocolate, chocolate cake, brownies…and most importantly, BAGELS!
Chocolate first came into Europe in 1550. Before, it was only available in its native countries including Mexico and Central America. However, after being discovered by foreign invaders, it soon become a popular sweet treat around the globe. At first, it was known only as a hot beverage, before solid chocolates were created in the 1800s.
Most people love to indulge in chocolate. In fact, nine out of ten people in the world say they LOVE it and almost one billion people eat it every day. Although chocolate isn't naturally vegan, there are now plenty of vegan options available on the market. Some may say that vegan chocolate options are better too.
Although chocolate gets a bad rep in the dietary world, it does have its health benefits. Chocolate boosts your mood by increasing serotonin and dopamine levels, whilst dark chocolate improves blood flow, lowers blood pressure and reduces the risk of heart disease. If eaten in moderation, of course.
What better way to celebrate World Chocolate Day than indulge in our brand-new chocolate bagels? They are vegan and gluten-free whilst remaining chewy and delightfully sweet. We recommend enjoying them toasted with Nutella and banana. You could also go crunchy with some peanut butter and jam, the choice is yours. Visit our online store and shop your gluten-free Chocolate Bagels with 10% off today using code 'CHOCO10'.   
We dare you…