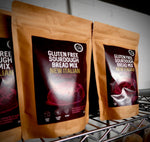 The Gluten Free Bakery Story 
Off the back of Gluten Free Awareness Week, we thought we'd share our story of how the Gluten Free Bakery began. 
Let's start with one of our founders, Rana. Rana's previous job was in investment management. Whilst there, she was struggling with health issues such as constant fatigue, stomach problems and lack of concentration. It got so bad that Rana would sleep for 12 hours at night, and then would still need to take a nap during the day. After five years of trips to the GP, following a positive coeliac blood test, Rana was eventually given an endoscopy scan. Which later revealed she was suffering from coeliac disease. This disease affects at least 1 in 100 people in the UK and Europe. However, only 30% of people with the condition are clinically diagnosed. 
After Rana's diagnosis, she switched to a gluten-free diet. Her experience with a GF diet wasn't a terrible one, but she missed good quality, baked bread. Therefore, she decided to make her own. 
Rana met her co-founder Alexander, who was already in the catering business. Together, they started making gluten-free bread baking kits. Their first big break came when they supplied their kits to a Selfridges pop up. However, Selfridges quickly changed their mind and approached Rana and Alex and asked if they could supply them with freshly baked bread instead. 
From here, our bakery began supplying gluten-free loaves to multiple restaurants and bakeries in and around London. Following this, we began to branch out across the UK. 
As COVID-19 hit in 2020, the bakery decided more people should have access to our amazing gluten-free bread. So, we branched out our online store to reach more of the general public. The bakery continued to grow, and we are really proud to be a rare 100% gluten-free and 14 allergen free environment, not to mention an almost zero waste bakery. All our products are suitable for vegans and coeliacs and we even use 100% recyclable packaging. 
Most of Gluten Free Bakery's goods now get delivered to doors across the UK within 24 hours of the bread coming out of the oven. You can't get much fresher than that. 
Thank you to all our customers for supporting us and for all the amazing reviews we receive weekly about our products. We are proud to be pioneers within the gluten-free market, supplying tasty baked goods nationwide.
Our hope is to defeat stereotypes and show everyone that gluten-free bread can be extremely delicious. 
Rana, Alexander and the team.