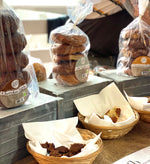 After the sad exit of our Bold Buckwheat and teff loaf, and a temporary take down of our nearly rye, we have some new kids in town. 
Let's start with our bagels. Our gluten-free bagels are our most popular product here at the bakery. We are proud to say you will not find a gluten-free bagel quite like it, especially not in a mainstream supermarket. Our bagels are large, chewy, perfect to toast and all round pretty delish. 
We've decided to introduce THREE new flavours to our bagel family. We have, chocolate, nigella seed & garlic, and a classic plain white. However, we will not be forgetting the original boss bagel and of course, cinnamon and raisin. 
So, we wanted to take it up a notch. After listening to our customers we realised that it was quite a common occurrence that people couldn't eat gluten-free oats due to specific dietary requirements. We made this switch with our new flavours, meaning none of the new bagels contain any gluten-free oats. We also understand that a portion of our customers are unable to consume garlic. That's why both our plain white bagels and our chocolate bagels contain no trace of garlic.
Moving onto our new loaf, totally seeded. We wanted to create a seeded bread to really wow our customers. Similar to our previous teff loaf, totally seeded is made with the same teff sourdough and contains no yeast, no garlic, no gluten-free oats and is free from all 14 allergens. Just how we like it. Our new loaf is packed full of nutrients, with the main one being flax seeds. Flax seeds have a mountain of different health benefits with them being high in omega-3 and rich in fibre. 
Our totally seeded loaf is perfect paired with your eggs in the morning or packed with avocado for a lunch time pick me up. 
All of our products will be available via our website from next week and selection boxes are being produced as we speak so you can sample them all. 
We hope you love our new bakes as much as we do.  
Rana, Alexander and the team.