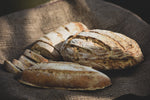 What does gluten-free mean?
Gluten is a family of proteins that are found in grains like wheat, rye, spelt and barley. These grains are often used in food products such as: bread, crackers, cakes, waffles, pancakes and doughnuts. Basically, all the best carbs on the planet contain gluten, apart from ours of course!
It has become much more common for people to avoid gluten due to personal preference and more seriously for a diagnosed medical condition. Celiac disease, wheat allergy and non-celiac gluten sensitivity are all medical conditions that cause a severe reaction to gluten and therefore require a gluten-free diet to deter symptoms. In fact, 1 in 100 people have Celiac disease, and 97% of these people are living undiagnosed. 
How to ensure you're following a gluten-free diet.
Living a gluten-free diet doesn't have to be difficult or mundane. Fortunately for you, we're here to help! Every single one of our products baked in our London bakery is gluten-free. This means there are no signs of wheat, rye, barley, spelt or kamut in any of our products. Instead, we use celiac friendly alternatives such as, sorghum, teff and buckwheat to name a few. 
If you're unfortunate enough to miss out on our products (when eating out or on holiday), you should always remain cautious and read ingredient labels on products. This is where you'll find the specific grains highlighted. You should also be cautious of cross contamination with other products to minimise the risk of a gluten reaction. 
Also, when visiting friends or family, plan ahead and take homemade gluten-free meals that you know are safe. The same applies when you're on the move, try to keep lots of snacks handy to keep your appetite at bay!
Visit our recipe blog
here
for lots of gluten-free inspiration. You'll find a tonne of tasty recipes, both sweet and savoury. Alternatively, if we've made you hungry, visit our website to grab all our delicious bakes!